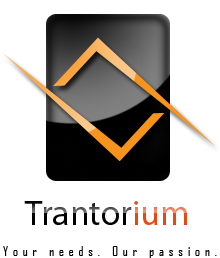 Contact information
Impressum
Trantorium
Sébastien Santoro
VAT BE 0715 654 815
Headquarters
Rue de la Science, 14
6000 Charleroi
Belgium
E-mail
contact

trantorium.com
Banking
IBAN BE51 0017 6122 5562
BIC GEBABEBB
The Trantorium mission
Our mission is to help you to realize your projects and to let you benefit from our expertise,
to let you do what you want to do.
The Trantorium skills fields
IT
Specifications. Functional analysis. Quality assurance.
Software development. Open source consulting.
Communication
Online communities and social networks. Communication check-up.
Marketing studies. Online events
Projects
Product lifecycle. Marketing and business strategy.
Business plan. Risks assessment.